Rehabilitation Services
At High Point Regional Health, you'll discover a career with genuine benefits. From the support you receive from your peers to the difference you make to our patients, the experience here is priceless. It's in the closeness of our family culture, and in the reputation of being a permanent staple in our community. It's your opportunity to feel fulfilled and touch the lives of others – while staying connected to the reasons you care for others in the first place.
We offer a variety of rehabilitation settings, including a CARF-accredited, 16-bed Inpatient Rehabilitation Center, Acute Care Services, and multiple Outpatient Rehabilitation Centers. Our comprehensive clinical specialties include:
Hand
Orthopedic/Sports Medicin
Neuro
Pediatrics Vestibular
Spinal Rehab
Industrial Rehab
Vital Stim Lymphedema
Fall Prevention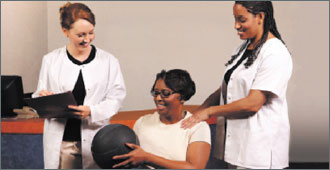 Explore opportunities that include:
Physical Therapists
Occupational Therapists
Licensed Physical Therapy Assistants
Certified Occupational Therapy Assistants
Speech-Language Pathologists
Recreational Therapists
At High Point Regional, therapists are well respected and treated as the consultative experts in their areas. Our community-based hospital setting offers all the technological advances/services of a larger hospital as well as a variety of rehab settings, flexible scheduling and an interdisciplinary approach to patient care. Our focus on professional growth includes continuing education with internal evidence-based learning opportunities and paid educational days off.
Here you'll find a fun and supportive team environment that encompasses professional associates ranging from new grads through 20+ years of experience. High Point Regional's Rehabilitation Services offers you the tools you need to succeed including numerous mentorship opportunities and the ability to work with cutting-edge technology like the BIONESS L300 Foot Drop System, the WalkAide neuroprosthetic device and a Biodex Balance System.
Join our family of therapists and discover the camaraderie, respect and openness that lead to a whole new level of healthcare. Search Therapy Jobs to start your journey toward a fulfilling career with High Point Regional!
Employee Testimonials

When I interviewed at High Point Regional, I immediately knew the Rehab department was a great team. Through the time I've been here, I've learned that not only are we a team, we're a family. We support and encourage each other both professionally and personally. Individually each therapist has their own strengths which helps the team to grow as a whole. Outside of the rehab department, I feel we are respected and appreciated by all other staff, medical and otherwise. The entire hospital is very forward thinking and progressive, constantly striving to provide the best care to our patients. I am proud to be able to say I am an employee of High Point Regional.
OT in Acute Rehab since 2009

I had just completed my final full time clinical practicum before graduating on IRC and acute care and was given the opportunity to interview for the open outpatient position. I was hired as the outpatient Speech Language Pathologist in June of 2006. Being a new grad I was always able to have the mentoring and guidance I needed to build my confidence in being successful. I still have a tremendous amount of support from my coworkers, speech coordinator, managers, and director and can approach them with any questions or concerns. I have been able to attend numerous continuing education courses to further my knowledge and enhance my ability to provide exceptional services to the patients I treat.
SLP in Outpatient Rehab since 2006

I came to HPRHS to be a physical therapist because it just made sense. The size of HPRHS is large enough to provide excellent resources for working with various types of patient populations, however small enough to still have that very personal touch. I stayed at HPRHS because of the people. The people that work here are not only dedicated and compassionate, but they are also patient advocates and team players. Since joining the team at HPRHS, I have also joined a family.
PT in Acute Rehab since 2006

High Point Regional is the first place I came to work after completing my Master's of Physical Therapy degree. I have been employed at High Point Regional for 6 years. High Point, NC is my home town and I came to work at High Point Regional so I could remain close to my family, and I now call High Point Regional my "family" as well. I am currently in the Inpatient Rehabilitation setting and this is definitely the setting I love the most! My co-workers and leaders on the Inpatient Rehab Center (IRC) are great to work with and we all help to see that the needs of our patients and each other are met. My job satisfaction comes from a good salary, generous benefits, and the ability to grow and nurture skills that enable lifelong success. At HPRHS, we develop strong, supportive relationships with co-workers and have clear, achievable expectations. This teamwork lets us become better at what we were already good at doing, and provides a great deal of satisfaction in seeing our patients meet their goals.
PT at Inpatient Rehab Facility since 2004